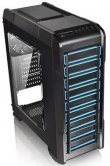 Thermaltake PC cases have never been a frustration. The Versa N23 is not an exception. It is a combination of functionality balanced with modern styling and a bit of company's passion. The middle-tower chassis draws attention by the front panel with light-blue insertions against black panel. The other attraction is the right-side panel with an integrated acrylic window.
Thermaltake Versa N23 is intended to accommodate mini-ITX, micro-ATX and ATX motherboards with the maximum of 7 expansion slots. The availability of ODD bays enables the installation of two 5.25-inch drives. The layout also welcomes five 3.5-/2.5-inch drives which might be mounted without any tools.
Internal space is enough for 160-mm high CPU coolers, PS/2 ATX power supply units and 250-mm long graphics cards. If retrieving unnecessary drive bays from the bottom section, there is a chance to install 360-mm long videocards.
To continue, air cooling configuration offers 5 seats for 120 mm fans (2x …